Chesstris Mini for Playdate (Available now!)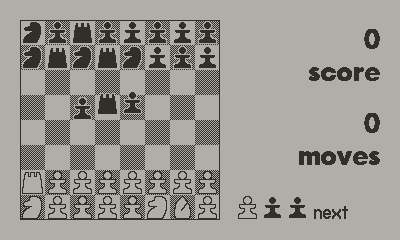 An even-more-pocketable version of Chesstris!
Chesstris Mini is an auto-battler Chess-unlike game which blends puzzle and strategy into a chaotic high-score challenge!
How to play:
Place groups of pieces on the 8x8 chess board and watch the pieces just clobber each other.
You can tame the chaos by trying to predict the order of battle:
pieces only move to attack other pieces
stronger pieces get to attack first, but are the first to be attacked!
pieces can only attack once per turn
keep the board clear or else it's GAME OVER
turn the crank or press the B button to skip your current block, but it costs 5 points so use it sparingly!
Purchase
In order to download this game you must purchase it at or above the minimum price of $2 USD. You will get access to the following files:
Chesstris Mini release.pdx.zip
941 kB
Comments
Log in with itch.io to leave a comment.
This looks cool. It's made me think - I'd also LOVE a decent regular chess game too :)
can a regular chess mode be added to it? just wondering if the idea is possible.
Fun game!
One bug I encountered. If I am playing a round and put the game into sleep mode, upon resuming the game music seems to go away. If I finish the round and start a new game, the game starts at the state (positions, points, moves) before I had put the Playdate into sleep mode. Switching games and coming back fixes this issue.